It's hard to feel like you're accomplishing something when nothing's changing
Weeks with current fosters: 26, 20
Days without being sneezed on: honestly, it's been a while.
The kittens continue to be as cute as buttons, individually and collectively. Jenny and Clem continue to ignore them, disdain them, ignore them, hiss and bap at them, and, very occasionally, play with them.
Kas is good at regularly updating the Instagram, so followers there know we took Sidney and Indiana to an adoption event last Sunday at the Columbus Circle Petco … where it turned out they were so relaxed in a brand-new environment they just sort of napped the whole time instead of turning on the charm. It's almost as though these two don't even want to be adopted. We also had a potential adopter come visit them last month, but (obviously) she passed, since it's been five entire months and they're still with us. We've had Buster for half a year, now.
On bad days, I'm not sure how we're supposed to keep going like this. Do we just have long-term fosters, like, indefinitely? I know we had our last two stragglers from October 2018 through the end of April 2019, a not-insignificant amount of time — especially when you are fostering for an organization that, like Little Wanderers, for whom we foster the twins, doesn't reimburse for supplies — to have what are ostensibly supposed to be, you know, temporary kittens. It feels like a burden more than a joy, sometimes. The amount of food we go through, the amount of effort it takes to care for them, the juggling of schedules to make sure everyone's getting all their needs met as much as possible — it's a lot. It's really a lot.
Then again: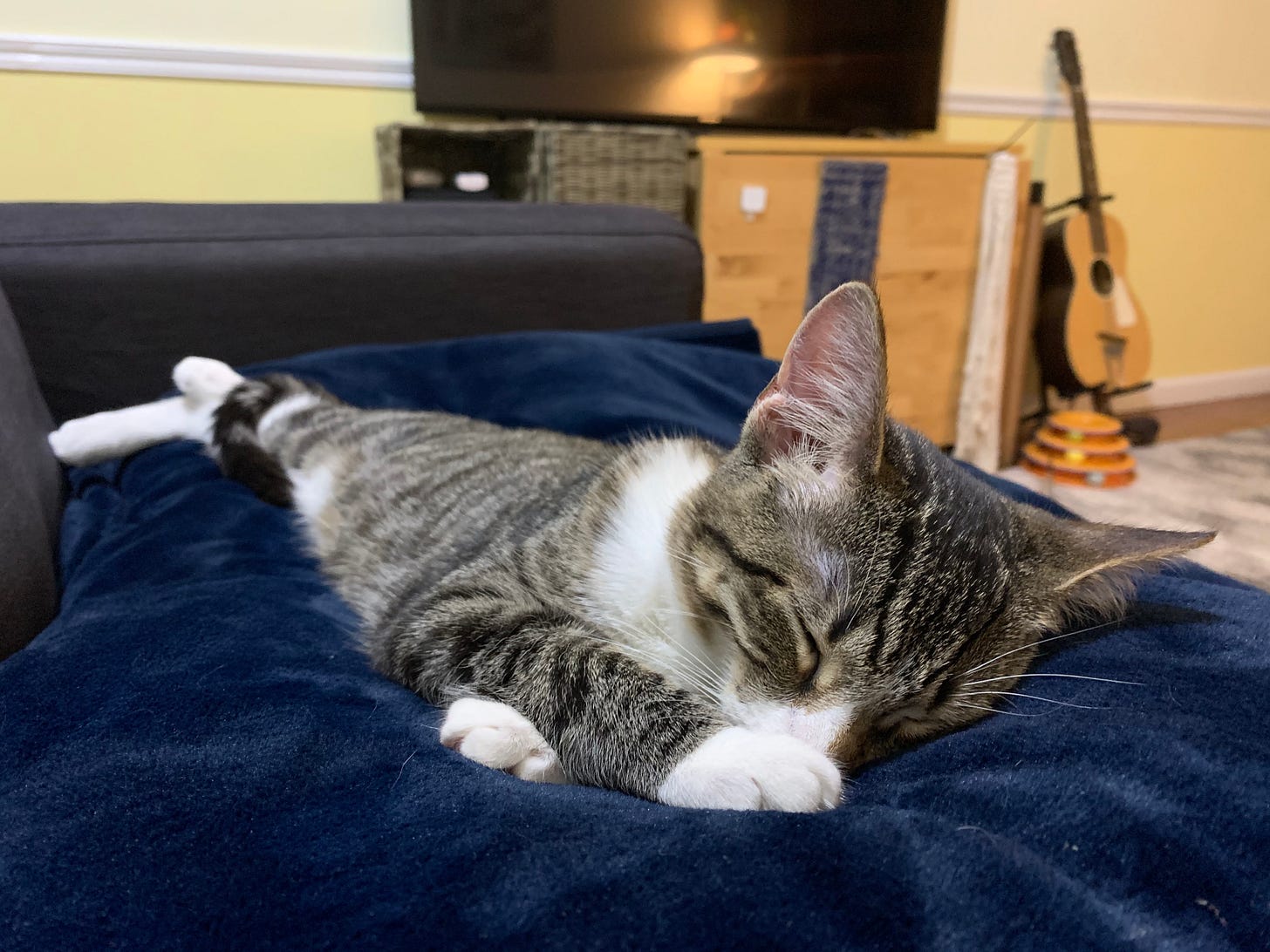 Kas and I ask ourselves all the time, Are we doing enough to get these kittens adopted? This is not a question I remember us posing when we started fostering, and, as I said, we had long-term fosters through April of last year. The main difference between now and then that I can see is the Instagram, which we didn't have for the '18-'19 kittens. I don't remember us feeling the responsibility of getting eyes on these kittens the same way I do now, and based on social media alone, there are way more eyes on our current kittens on a regular basis than there ever were on our last however many.
That doesn't seem to be changing anything, though, when it comes to adoptions. I can't remember anyone backing out of adoptions before, and we've had three parties meet the kittens (Buster twice, the twins once) and decline. I have to believe that it's for the best, but it's still wildly frustrating. I adore these kittens — do I sometimes wish Indiana could always stay my sweet precious baby? Do I wish we could afford to commit to Buster and letting his and Clem's relationship deepen and grow? — but we can't keep them and the longer we have them, the longer it feels like we're going to have them, and I sometimes miss last year's feeling of helplessness in the face of no adopters without any recourse — that attitude of Well, we're doing our best is much easier to adopt when you have fewer options that might constitute your best. Everything we're doing to get these kittens adopted doesn't seem to be making any more difference to finding them their forever homes than when we weren't sharing our fostering adventures (when the mundanity of play/feed/nap/discover dried barf under the couch = an "adventure") on social media.
We did get to help out Buster's rescuers/sponsors, our faves Flatbush Cats, with their mass trapping + spay/neuter event last weekend. Kas and I played literal clean-up crew, coming in to change the bedding and feed+water the remaining cats after the event. We didn't have to do that much — maybe an hour of actual work, however smelly and tricky — but it felt good to help people making a measurable difference to the lives of a feral cat colony. I'm proud to help community cats whenever we can, especially outside peak kitten season. I would encourage anyone who can't foster to donate time or money to a local TNR organization; they're doing the work of preventing next year's street kittens from being born, putting an eventual end to the feral cat cycle that people like the Audubon Society claim to oppose while also opposing any city/state/federal support for TNR programs that actually, you know, reduce the numbers of feral cats on the street and therefore help save the birds AS exists to protect. Never mind reducing the suffering of cats being born on the street, of which there are still literal millions annually. For a look at some local efforts in Brooklyn, check out The Cat Rescuers.
In the meantime, we've got kittens. At least as long as they remain technically kittens. Come get 'em.